Give us 1%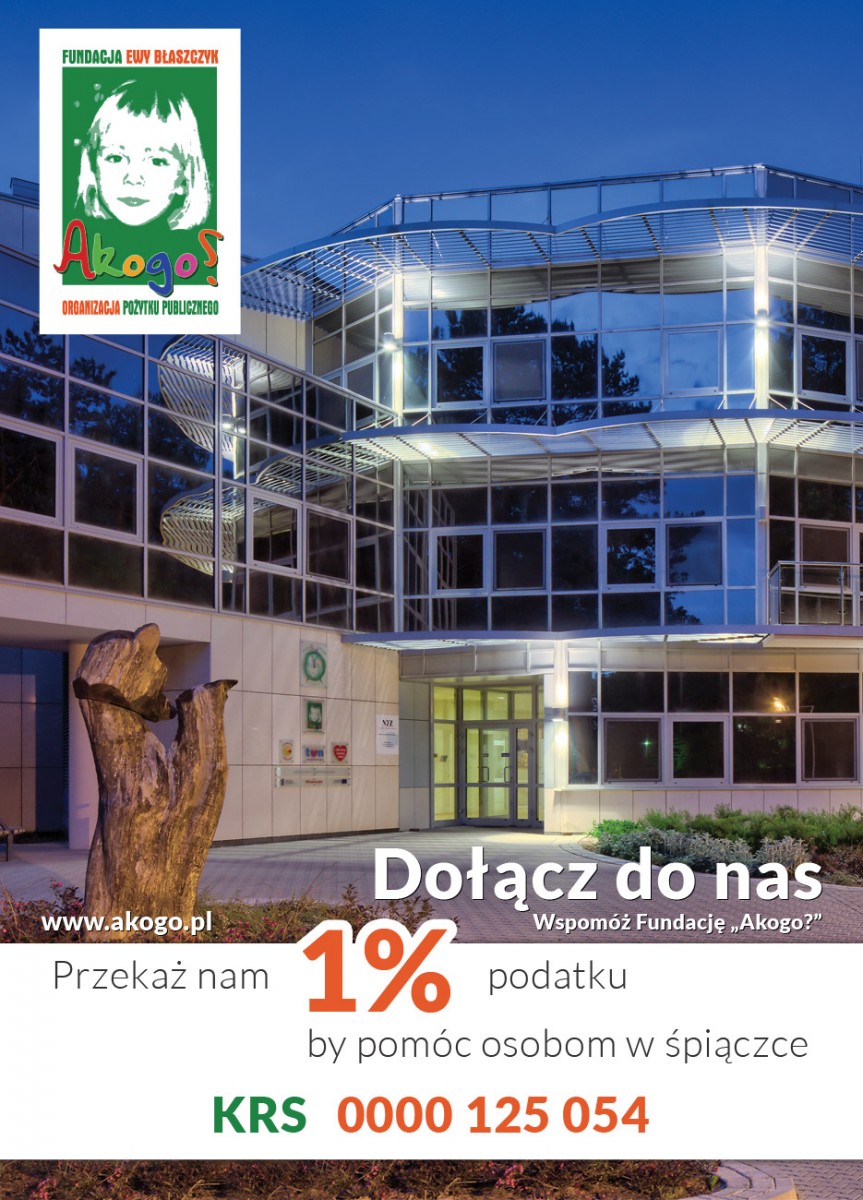 Remember about us when you calculate Your PIT
Give 1% of your taxes to Ewa Błaszczyk's Foundation "Akogo?" .We help the persons with severe brain injures who are in the state of coma (social campaign "We Are Waking Up!")

Check us on the PBO (Public Benefit Organization), entitlted to receive 1% income tax from physical person for 2018 list: >>>Organisation's list<<<

It is very simple!
Fill in the declaration You will find "WNIOSEK O PRZEKAZANIE 1% PODATKU NALEŻNEGO NA RZECZ ORGANIZACJI POŻYTKU PUBLICZNEGO OPP".
When You see the caption "numer KRS" write : "0000125054" and in the caption "Wnioskowana kwota" (the sum of money) – the sum which You want to give (not more than 1% of income tax, rounded to full ten groszy's down). The caption "Cel szczegółowy" (definite target) is not filled in the case of our Foundation.
Submit your PIT on time, in the Tax Office, transfer funds to our account!


Do you have problems to calculate your PIT?
Use the free programme for PIT calculation.


Owing to the income from 1% we have so far managed to create and support the first "Alarm clock" Clinic for the children in coma (where more than 50 children have already woken up), and organized two international medical conferences.

At present we are working on the project of the "Alarm clock" clinic for adults in Warsaw (at Bródnowski hospital).

We have been working on bringing to Poland the world medical achievements on coma problems, on scientific knowledge exchange and implementing the experimental programmes. The international scientific conference "The latest achievements in diagnostics and treating coma" in November 2015 served this purpose. More than 400 parcitipants from all over the country listened to the lectures delivered by the most distinguished scientists and medical doctors from Japan, Germany, Belgium and Poland and learned the latest achievements in telling the vegetatives state from minimum consciousness. As well as the latest treatment methods for the persons in coma.
In 2017 we oraganized the international scientific conference in Warsaw "Stem cells research and treatment".

THANK YOU!

Ewa Blaszczyk's Foundation "Akogo?"